Polimoda opened the 100th edition of Pitti Uomo with the first-ever fashion show presented in one of the most famous squares in Florence. On June 29th, the historical Piazza Santa Maria Novella transformed into a runway show for an evening of elegance, magic and beauty. 
An orchestra performed for the occasion and a secret garden of flowers, plants and trees, highlighting a Rob Mulholland sculpture installation, was on display in the center of the square.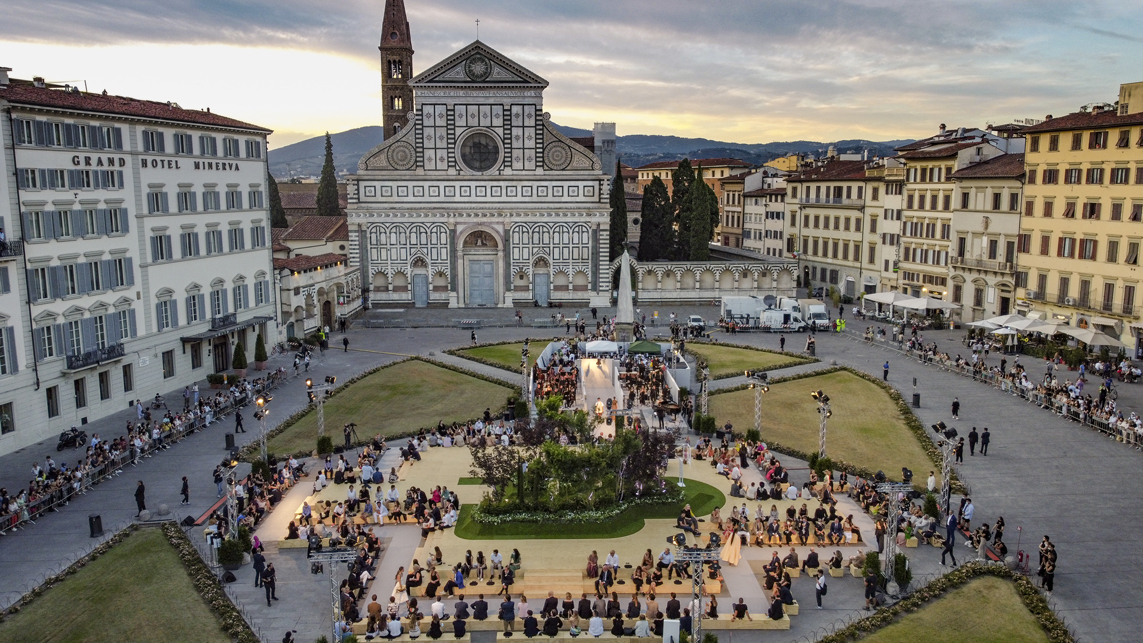 Polimoda Art Thou – Graduation Show 2021, ph. Lapo Quagli
Following the show, Polimoda offered the installation to the city for the duration of Pitti Uomo, allowing Florentines and visitors from all over the world to enjoy the sculptor and environmental artist's work. His practice explores the complex relationship between humans and the natural world. Utilizing a wide variety of forms and materials, his sculpture installations interact with their surroundings. He incorporates mirrored surfaces in his sculptures to reflect the given environment and alter the viewer's perception of the space. The reflection is purposely distorted, inviting the observer to question their individual relationship with their surroundings.
Art Thou – Polimoda Graduation Show 2021, ph. Alice Franchi
For the first time in Polimoda's 35-year history, top talents from all of the design area programs—not only fashion design graduates—participated in the final graduation show. 
Following a series of revisions and evaluations with Director Massimiliano Giornetti and the fashion design department, Italian designers Allegra Aglietti, Lucrezia Bargellini, Chiara Cafissi, Camilla Conti, Marina Coppola, Maria Vittoria Del Rosso, Domenico Orefice, Alessia Dovero, Martina Giammillari, Annagiulia Giannetti, Lorenzo Guarnieri, Ugo Federico Ianaro and Pietro Moretti were selected for the final show as well as international students Valerie Armas Plasencia from Venezuela, Machalen Rebollo Prieto from Spain, Bokyung Jo from South Korea, Oluwafieyitimi Chukwueneka Majekodunmi from the United Kingdom, Paulo Guilherme Mileu Soares from Portugal, William Morgan from Canada, Glenn Charles Murphy from Ireland, Yuliia Rudenko from Ukraine, Daria Shkundina from Russia, Claire Tilroe from Austria, Yu Ning Hung from Taiwan and Yun Xie, Yulian Zhong and Jianqing Zhao are from China. Tommaso Bertini from Italy and Pari Shah from India created accessories for some of the collections. 
Art Thou – Polimoda Graduation Show 2021, ph. Marco Gualtieri
Polimoda invited some of the most fascinating personalities in fashion and entertainment to vote for the best collection of 2021. This year, the jury was composed of: Massimo Cantini Parrini, Oscar-nominated Costume Designer; Marco De Vincenzo, Fashion Designer and Founder of his eponymous label and Master in Collection Design mentor; Barbara Digiglio, Managing Editor, Global Luxury & Fashion Brands Digital Hearst Italy; Yu Masui, Fashion Journalist; MYDRAMA, musical artist who recently participated in X Factor and Massimiliano Giornetti, Director of Polimoda.