Polimoda announces a major step forward in AN/ARCHIVE, its innovative and ambitious fashion study and research project. The school has completed the acquisition of over 7,000 sqm in the heart of Manifattura Tabacchi Factory, an avant-garde creativity and production hub that is also Florence's new contemporary culture centre. The AN/ARCHIVE concept has been entrusted to the emerging talents of the (ab)Normal, a multidisciplinary studio that specializes in architecture, design, and creative direction, commissioned to create a multimedia universe in which fashion, design, art, performance, music and visual culture can interact and inspire the creative minds of the future.
These new spaces are part of one of the most important urban regeneration projects in Italy, promoted by a joint venture formed in 2016 by the property development arm of Gruppo Cassa Depositi e Prestiti and PW Real Estate Fund III LP (managed by Aermont Capital). The project is being managed by MTDM – Manifattura Tabacchi Development Management Srl.
Polimoda's new project will occupy three levels of Building B4, from the first floor to the attic, in addition to the panoramic skyroom, redefined through a contemporary lens to accommodate AN/ARCHIVE, the new Polimoda Library and an extension (nearly 2,000 sqm) for the school's workshops.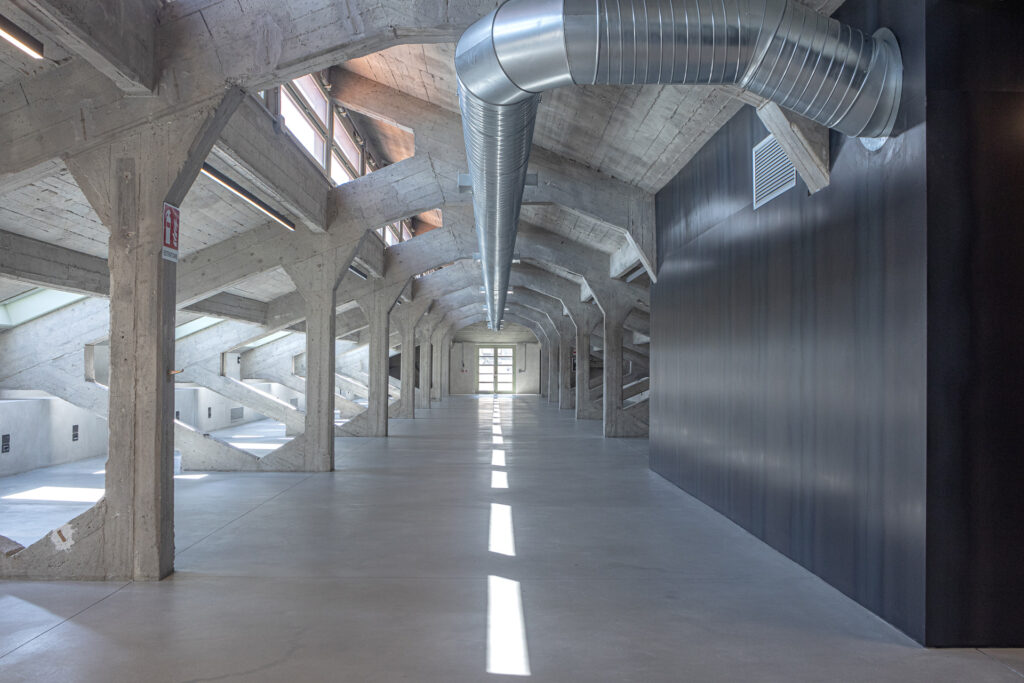 Under the project curated by (ab)Normal, which is tasked with AN/ARCHIVE's architectural and interior design, the creative hub will be divided into three spaces, two physical and one digital, by means of a flexible system in which content will be constantly activated and interconnected.
The attic floor will contain the fashion archive and an exhibition space of over 400 sqm. The pitched roof and iconic architectural design with aisles and bays, inspired by structures designed by Pier Luigi Nervi, create a natural division of the space into 27 intercommunicating rooms for the interior design team to work on.
The east wing of the attic, dedicated to the archive and consulting spaces, will have storage and display units with modular partitions for fabrics, garments and accessories, as well as a limbo backdrop for photo shoots and digital scanning, plus shelves and seating for consultation and research.
The west wing exhibition space will be entirely dedicated to temporary installations: inclined planes, LED screens, stands and hanging systems will adapt according to the shape of the space, providing an exhibition setting in continual evolution.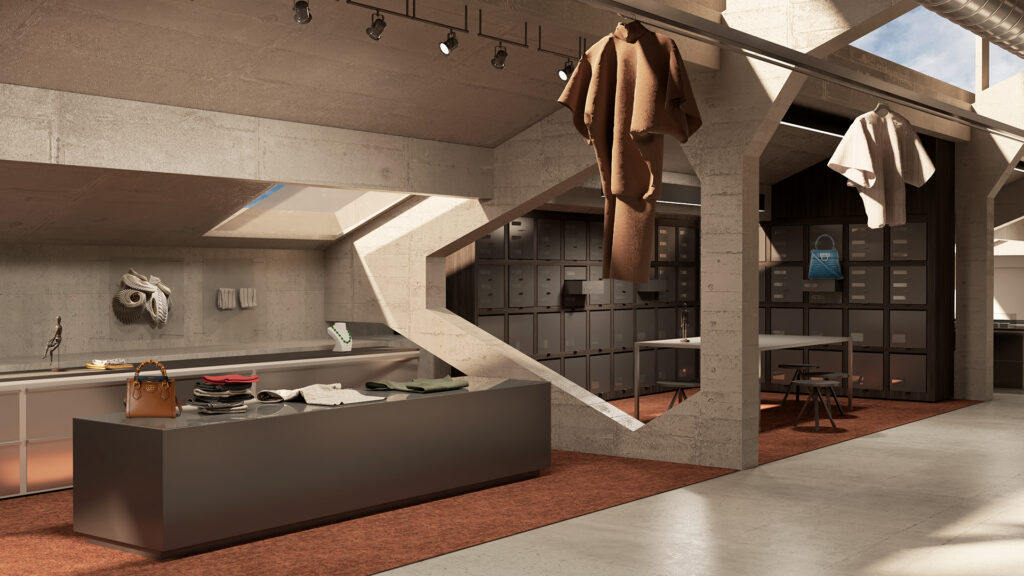 The second floor of the building will house the Polimoda Library, one of the largest fashion libraries in Europe. Covering over 1,200 sqm, it will be designed as a distributed library that integrates displays of materials available for consultation with lounges and lecture areas, projections, workshops, meeting rooms and individual study stations. The various environments will be separated by shelving and sound-absorbing curtains to preserve the original architectural structure and provide a dynamic and flexible space that can evolve in time. Solids and voids create a spatial and experiential dynamic, the solids being the archiving, consulting and learning facilities, while the voids are the communal spaces, access ways, and meeting and cultural spaces.
Library users will be able to consult a collection of over 29,000 volumes, including rare and valuable items, a periodicals library with over 600 publications from the second half of the 19th century to the present day and over a thousand fashion look books and trade catalogues, as well as a section on films and documentaries about fashion and art.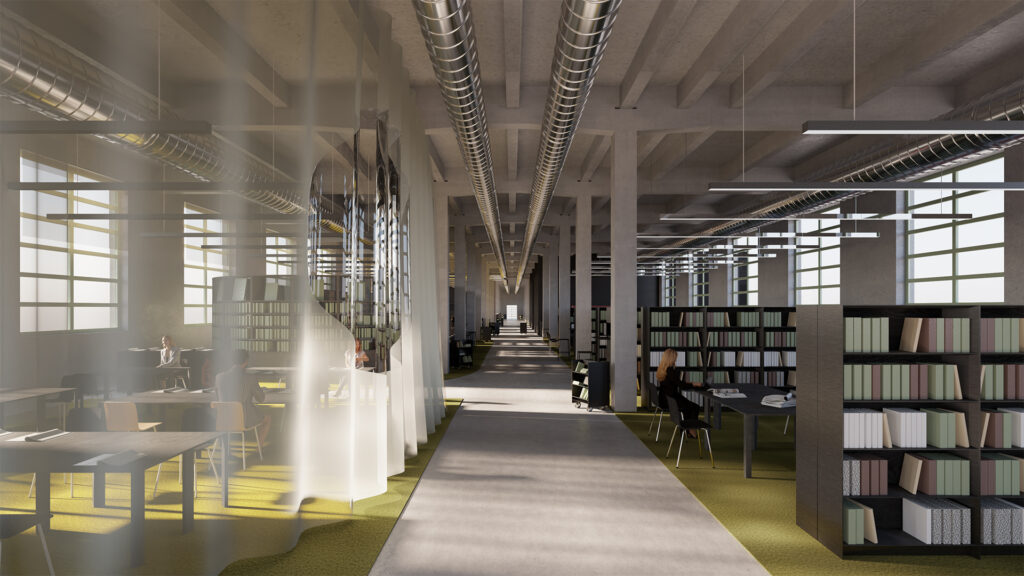 Lastly, the physical spaces are complemented by a digital platform designed to provide interconnection between the archive and the library, an exciting and fluid environment for exploration, learning and sharing creativity. This will be an invaluable tool for researchers, academics and fashion fans all over the world, extending AN/ARCHIVE's reach and impact beyond the bounds of its physical space.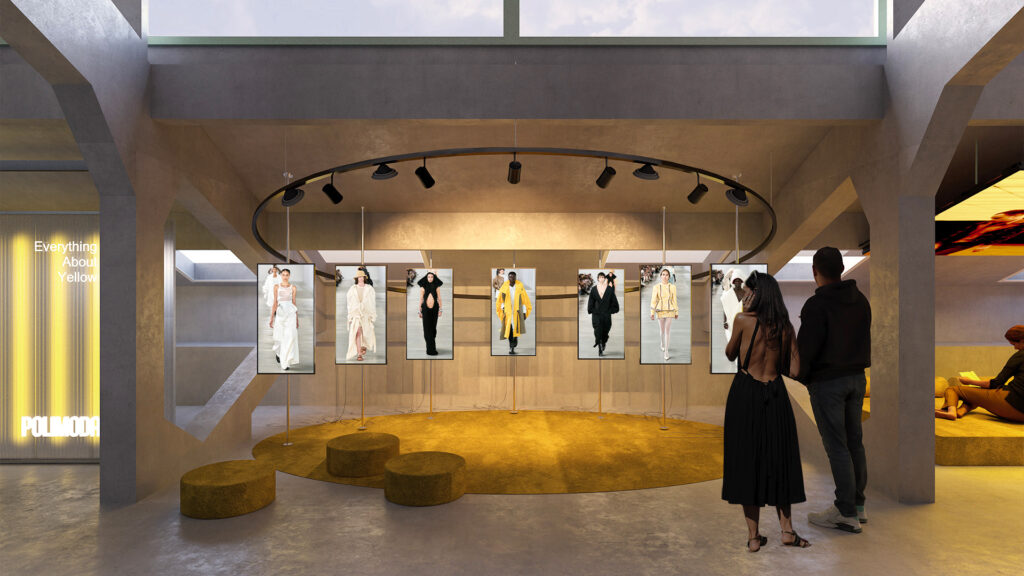 Thanks to AN/ARCHIVE, Polimoda will be creating a physical and virtual place in which to access a unique and invaluable cultural heritage that can be drawn on to build an increasingly sustainable and innovative future. The new spaces will be unveiled with a first exhibition event expected next autumn, which will allow visitors to explore the facility and have a first-hand experience of the innovative fashion archive. The construction work is scheduled to begin in the early months of 2024.
AN/ARCHIVE is the new creative hub for fashion research presented by Polimoda in March 2023. A space open to the city, designed to welcome researchers, curators, archivists, students, designers and businesses interested in studying fashion. Not a museum but a new concept fashion archive: a vibrant, dynamic and accessible place for research, but also a venue for encounters and events. A workshop in constant evolution based on the curatorship of iconic garments by great designers, encouraging contact between the various creative players in the fashion system using a universal idiom and an analytical approach to fashion. Indeed, AN/ARCHIVE is designed as an innovative space that will host exhibitions, workshops, conferences and debates on some of the most relevant issues for today's fashion industry, so stimulating reflection on the future of the sector and helping a new generation of researchers to emerge. The project will be curated by Polimoda and supported by the school's resources, European funding, grants, sponsors, and public and private partnerships interested in training and research.
For information: anarchive@polimoda.com
(ab)Normal is a design studio experimenting within architecture, scenography and creative direction. The studio is part of the winning team for the design of the New European Library in Milan, which is currently under construction, and has worked with prestigious clients such as Moncler, LVMH, Bally, Duvetica, Cassina, Melià Hotels; it has contributed to cultural events related to design and architecture such as the Venice Biennale (Italian Pavilion 2023), Dropcity (Design Week 2022-23), the Ljubljana Biennale (BIO26), SAM Basel, the Milan Triennale and the Tbilisi Biennale.
(ab)Normal was founded in 2018 by Marcello Carpino, Mattia Inselvini, Davide Masserini and Luigi Savio, is based in Milan and operates across Europe. The ANARCHIVE project has been developed in collaboration with Silvia Missaglia and Camilla Vaghi.
Manifattura Tabacchi in Florence is one of Italy's most important urban regeneration projects, involving the redevelopment of the storied cigar factory made up of 16 buildings, which will be transformed into lofts, homes, offices, retail space, coffee shops and restaurants, student housing and a hotel, as well as hosting important institutions such as Polimoda for a total of 100,000 square metres. April this year saw the opening of the Factory, a creative hub and state-of-the-art workplace appealing to an international community of professionals who want to live and work in Florence, in a setting animated by a vibrant community and eco-friendly spaces, surrounded by culture, fashion, art and design. Work is planned for completion in 2026.