Polimoda announces its participation in the 92nd edition of Pitti Filati, where it unveiles Changing RooTs, an immersive and interactive installation that explores fluid identities, freedom of expression and sustainable thinking.
Changing RooTs is the result of a collaborative project by students from the master's courses in Fashion Trend Forecasting, Sustainable Fashion, Textiles from Farm to Fabric to Fashion and Fashion Art Direction and from the undergraduate course in Fashion Design. Through a multi-sensory experience, these young creators invite visitors to think about differences as possibilities for empowerment, adding together multiple layers of their own DNA and their own identity.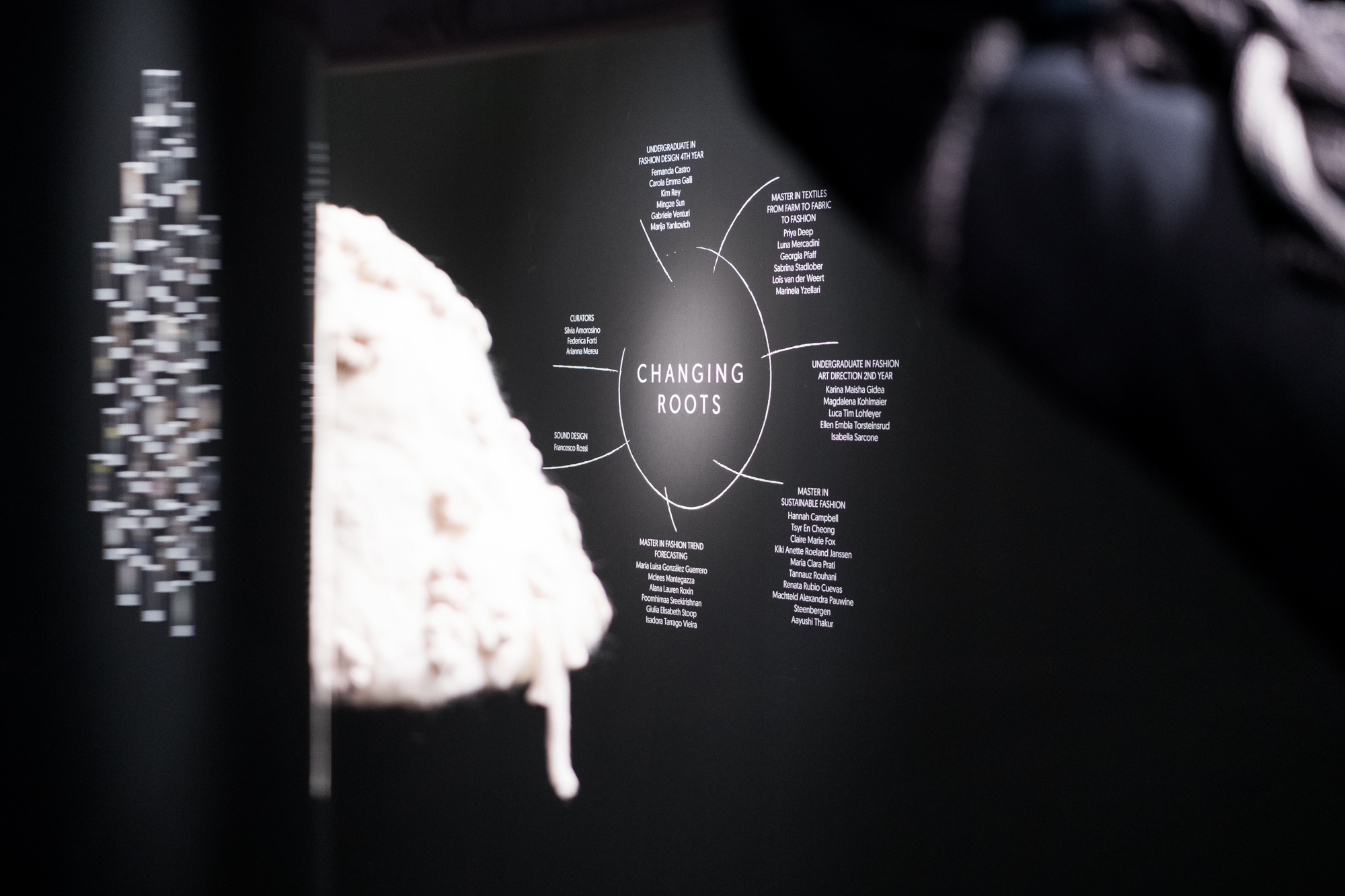 It should start in the mind and develop in the body. Changing RooTs embodies the merging of our hybrid identity, deepening our awareness of the self beyond borders. Embracing the preservation of our roots, we invite you to a dialogue among different cultures. Join us in discovering a new perspective on origins.
The installation features a rotating changing room, with six different corners and a sound shower that invites visitors to step into the shoes of others and immerse themselves in new identities thanks to headwear-artworks inspired by various radical cultures, in a celebration of diversity as sociological richness.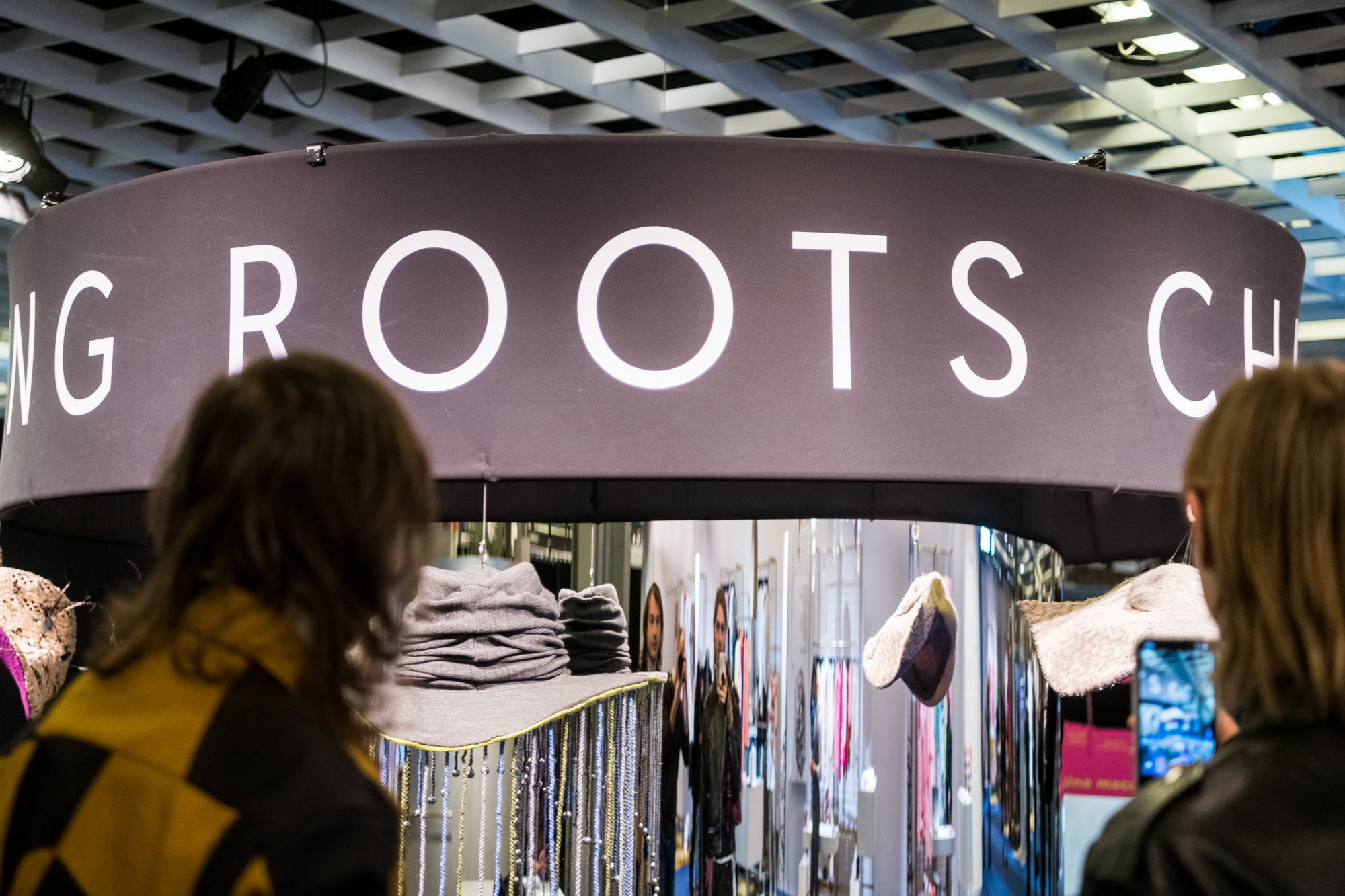 The Outrigeous headwear, with contrasting volumes and shapes that intertwine, represents the multiple aspects of the human personality. Rogue Rodeo reinterprets the cowboy hat and challenges gender rules with bright colours, fringes, beads and draping. Knitted Guardian is inspired by the shapes of Saturn's rings to represent our human connection with the universe. The Modern Medusa represents feminine strength and the different facets of a woman in an evolution of the femme fatale from Greek mythology towards a more modern vision of femininity. Patchwork Protection celebrates a groundbreaking fusion of different cultures, combining the shapes of the Albanian Qeleshe with the intricate patterns of the indigenous Peruvians of Cuzco. Finally, Streetwear Opulence represents a new take on the baseball cap through elements of the traditional Austrian hat and the richness of Indian embroidery, merging past and present, streetwear and opulence, in an elegant and contemporary accessory.
Polimoda invites you to visit the Changing RooTs installation at the Fortezza da Basso in Florence, ground floor, Central Pavilion, from June 25 to 27. Join us in an immersive experience that invites people to explore different identities in a dialogue that eliminates differences, emphasizes freedom of expression, and values diverse roots.
Below you can see all the works created and displayed by our students during Pitti Filati 92.
By Alana Lauren Roxin, Fernanda Castro and Marinela Yzellari
The concept of this hat was to find a common element in our cultures and mix together the different characteristics this element has. In this case, we found a common shape, represented in completely distinct mediums. We took the shape and technique from the Albanian hat, the Qeleshe, and the complexity of various patterns found in the Peruvian Virgins painted by indigenous people in Cuzco.
By Mclees Mantegazza, Kim Rey and Luna Mercadini
The idea of a new cowboy hat typically evokes a conservative and masculine image, simulating the rough and tough times of the Wild West. This new hat, however, will play against gender norms with bright colors and long fringes, surrounded by knit patterns across the top. Something indescribable in words, it encourages fluidity and movement, as well as a sense of self-expression.
By María Luisa González Guerrero, Marija Yankovich and Georgia Pfaff
One's higher self, which is ever-present between present and future, provides a space for anyone to be as they are; everything is accepted and understood. This headpiece, which is without conditions or limitations, represents the unconditional and protective source surrounding the collective. It is absolute, with no borders, just curves, a circular and inclusive formation. Perhaps this hat could act as a visual reminder that we can all tap into this unlimited source of acceptance, inclusivity, and fluidity. 
In terms of the headpiece architecture, the rings resemble those surrounding Saturn. This expands on the idea of the universal force that surrounds us. This totem performs the metaphor of acknowledging a source of shelter that every human has, the aura and energy we hold and constantly transmit into space. Our spiritual urge to connect to the higher self and ask for shielding. This headpiece therefore highlights the constant bond everyone has with not only ourselves but the universe; the constant bond of Earth and planets; of people and space. 
By María Luisa González Guerrero, Marija Yankovich and Georgia Pfaff
Medusa is an enduring symbol of women's power; a representation of female strength and wisdom; a powerful myth about women's empowerment; a beautiful woman who became a hideous monster and eventually transformed into a femme fatale; a Greek mythology that has evolved through cultures and time into a story about a femme fatale; a headpiece that reflects the different facets of a woman; a mirror of layering, showing that a woman can be both tough and gentle, hard and soft, cold and warm, all at the same time; a combination of craft, heritage, and our own roots.
By Giulia Elisabeth Stoop, Carola Emma Galli and Priya Deep
The idea of exaggerating a streetwear headpiece (baseball cap) and mixing it with a historic Austrian headpiece with opulent Indian embroidery may seem more casual and basic from behind, but the opulence strikes you from the front, giving both elements of a crown and streetwear cap, providing the best of both worlds.
By Isadora Tarrago Vieira, Mingze Sun and Sabrina Stadlober
Every human has more than one version inside, depending on the environment and mental condition. There are various personality aspects living in one body, and some are more accepted than others. They can be ordered and controlled, while some are wild or emotional, which we only show to close people. The outrigeous head gives space and freedom to express all of them in their individual beauty, representing a metamorphosis that leads to a state of healing and acknowledgment of all of them.