From accepting each designer's point of view to choosing between following a simpler style or daring with their creativity to enrich the collection, Undergraduate in Fashion Accessories students benefit from several opportunities to collaborate with their peers from the Undergraduate in Fashion Design.
Throughout the academic year, these interactions manifest in a range of activities, including photoshoots, exhibitions and other collaborative projects. Of notable significance is the graduate fashion show, the special event where most accomplished Fashion Design students present their final collections. This event underscores the critical interplay between accessory and fashion design.
We had the pleasure of sitting down with Natalie da Ros and Chiara Cherici to hear about their experience and learn more about this exciting collaboration. Natalie first collaborated on fashion graduate Ginevra Corvo's final collection, while Chiara worked on the accessories of Anthos Graduation Show 2023 best collection, won by Giorgia Giannotta.
Hi Natalie and Chiara. You are both students from the Undergraduate in Fashion Accessories Design program. We know you collaborated with Undergraduate in Fashion Design students, creating the accessories for some collection during the final graduation show. What did you think as soon as the collaboration was firstly proposed?
Natalie: When I first heard about this proposal, I immediately thought it could be a great way to get involved and gain direct experience with someone who might have different background, ideas and skills than mine, that it could help me maturing in terms of comparison and interpersonal exchange, which I consider fundamental in the work of a designer.
Chiara: I was very happy and excited when they proposed this type of collaboration to my whole class. We all thought it was a good project.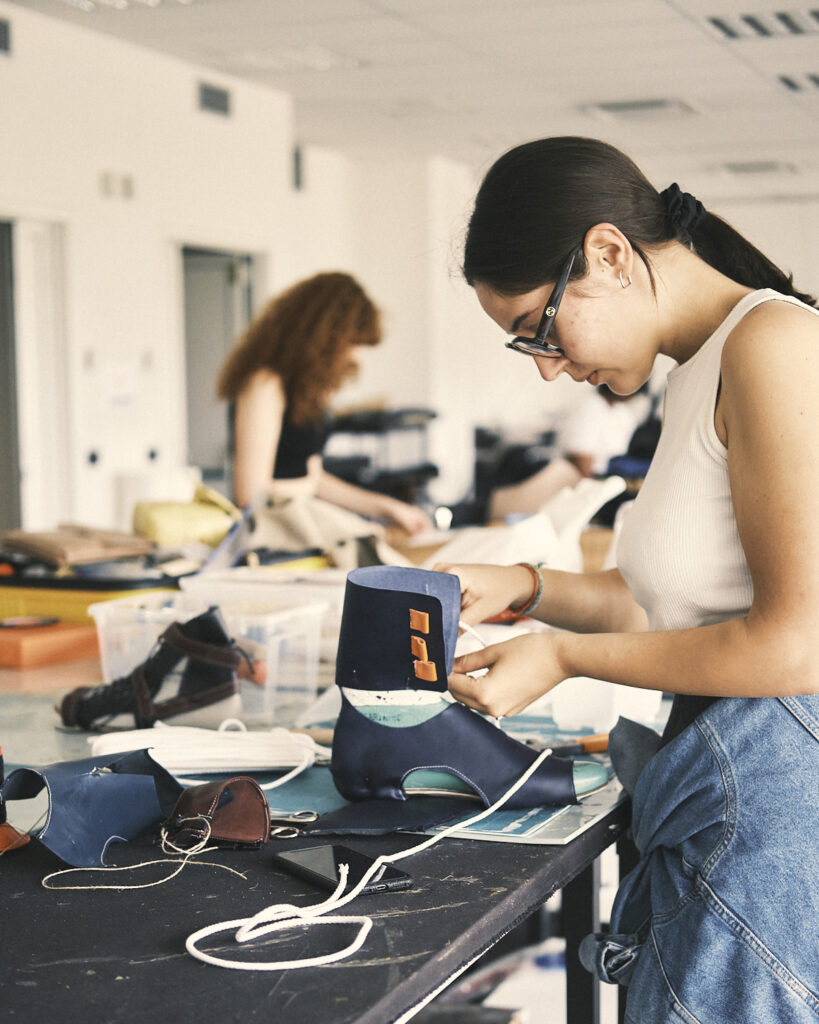 Shifting our point of view is certainly an excellent starting point for improving our own work. How did you bring your talent by inserting your background and vision on the accessories and how was the result? 
Natalie: I collaborated with Ginevra Corvo in her Please Cry collection in which a path of self-analysis and reflection on her life and her person was of fundamental inspiration, mainly focused on the last-year of school. Characteristic elements of the collection were the concepts of anger and closure, resulting in the need to cover up, protect oneself through various layers, which however leads to a destructive exit. 
For this collection in specific I made 2 pairs of customized boots in order to make them relevant with the mood of her collection and with the outfits created. Starting from a basic idea she developed with the help of teachers, I gave my help in understanding how to make her idea in the best way possible and giving technical and stylistic advice to obtain a better result, for example in the choice of materials or the best style to make the shoes as compatible as possible with her style. 
From this path, the result was footwear that clearly expressed the concepts she sought in her project and fortunately the products were greatly appreciated by her.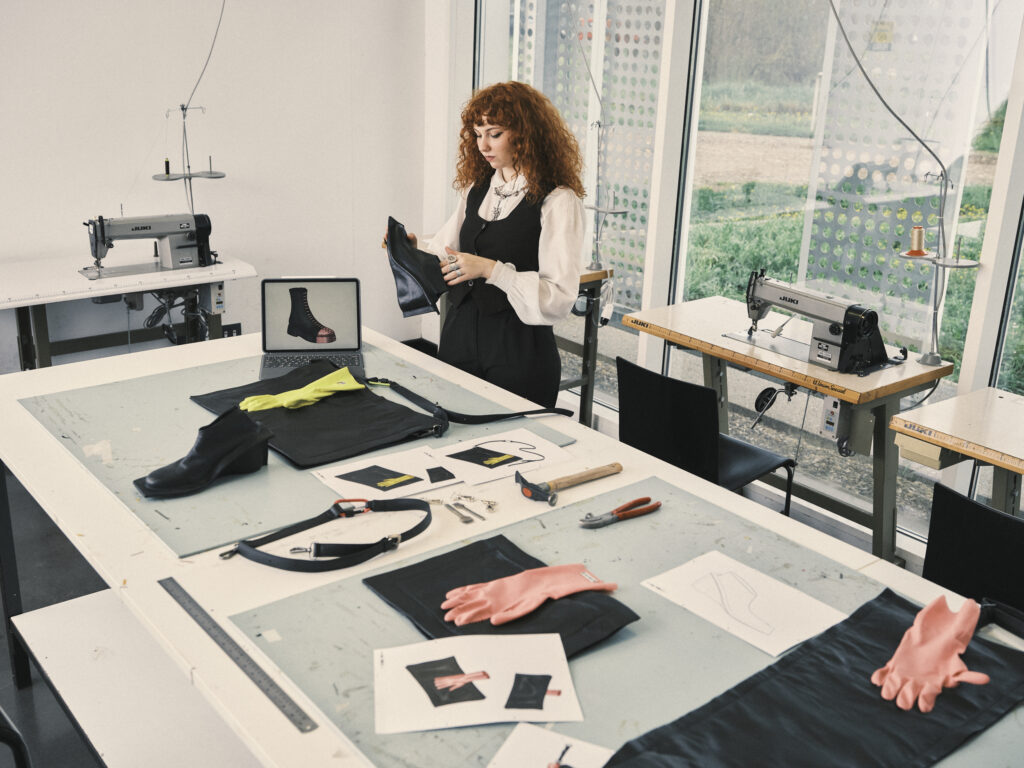 Chiara: I worked together with Giorgia Giannotta making six pairs of shoes for her collection Ostavljeni. Giorgia came to me with drawings of shoe prototypes that she would have wanted for her clothes, so I made some sketches and she immediately liked them. 
My work was mainly on the elaboration of the structure of the shoe. From some flats I made clogs, bombing the toes, working on the heel. An incredible thing is that by working so hard on the toes from a size 37 shoe we got a 41!
But we guess it wasn't an easy journey at all! What kind of challenges did you face while integrating your accessories into a fashion designer's collection? What was the greatest difficulty, but also satisfaction, that came out from this project?
Natalie: The thing that I find most difficult in being able to integrate shoes and accessories in a fashion designer's collection is certainly that of obtaining the right balance between them and the rest of the garments, they must be able to make stand out the latter without obscuring or disfiguring them and at the same time being able to maintain the identity of the looks. You need to be able to understand where you need to keep a simpler style and where you need to be daring, also in what way is more suitable to complete, integrate and enrich the collection. 
From a more technical point of view, however, I find challenging the fact that generally the accessory has not only a decorative function, but also a practical one, in this case a shoe must be able to allow the wearer to be able to walk in it. In order to have a good collaboration between different creative visions, I believe that communication and being ready to support one's opinions and ideas with conviction is fundamental, as in any aspect of life, but also to take a step back and welcome new and different options, ask questions, question oneself, maintaining an open, positive and available approach as much as possible, because in the end the goal is a common one. 
For me personally it was difficult to show my ideas with conviction, but during the project I was able to overcome this obstacle and make my opinions count, resulting in the satisfaction of seeing something I believed in with the necessary conviction and confidence achieved.
Chiara: The collaboration was very positive, Giorgia has always had very clear ideas, talking about the design and colors of her collection and consequently of the accessories. Also the knowledge and the help of a master like Diego Dolcini was fundamental, it was a pleasure to meet him. 
I've faced some difficulties in choosing the leathers to use for the shoes. For me, the clog was a new structure that I had never worked on, so I had to make many prototypes with different pieces of leather. In the end, together with Giorgia, I found the right leather: it was soft, shiny and resistant. So this pick was sewn on the basis of a clog.
Shoe Designer and Creative Director Diego Dolcini met up with you several times this year for a series of special workshops. He reviewed shoe prototypes, but also strongly believed in the collaboration between Undergraduate in Fashion Design Accessories and Undergraduate in Fashion Design students. What do you think about the role of the accessory designer? Which brand-designer inspires you the most?
Natalie: I find the figure of the accessories designer extremely interesting and complex. Accessories designers must be gifted with creativity, but this is not enough, they must always be curious and ready to learn, interested in researching and enriching their own culture, getting in touch with the past and the present to develop the future. They must have practical and technical skills regarding what they design, be aware of the materials, problems and difficulties involved in the development process of a product. They must have business and market skills, know the people they work with, communicate with different companies and suppliers to keep up with the times and needs. 
The side that perhaps most fascinates me and that made me decide to embark on the path to be able one day to carry out this profession, is that of how the accessory designers must be able to express their creativity through a useful object, they do not develop art for its own sake, they create an object that has a good balance between beauty and functionality and their goal is to find the perfect balance between these two elements. 
Up until now I have always found inspiration in the work of designers such as Yohji Yamamoto, Rei Kawakubo, Vivienne Westwood, J.W. Anderson, different style but which for everyone is expressed in an experimental, ironic, aesthetic, unconventional, free way and with the same philosophy, I consider inspiring brands those of Bottega Veneta, Loewe, Balenciaga, Maison Margiela, Shang Xia.
Chiara: The figure of the accessory designer is essential, especially now that there is a greater purchase of bags and shoes. Just look at the shop windows and understand how much relevance accessories have nowadays. The accessory designer it is a fundamental figure, as the accessory is what puts that extra point on every outfit. I would like to become a shoe designer or prototypic someday. 
Today I am very inspired by the Maison Margiela brand, my favorite, by Lucie Meier e Luke Meier for Jil Sanders and by the incredible Maria Grazia Chiuri for Dior.
I think students understood the right spirit of the collaboration. I'm proud of it. This is what happens in the real world. Accessory designers collaborate with their colleagues or artistic directors at RTW, helping them to best interpret the accessory concept they want to create for the brand they work on together. It's teamwork!
"This is the duty of an experienced mentor or designer when working with students of a qualified school of design. Polimoda is an example", Diego continues. "Fashion schools that dedicate a significant part to the accessory are rare, a fundamental component for a good brand concept today. All the major luxury brands have a significant turnover in accessory products. It's very nice to see students working to share a project and together creating a product that will go on the market in the future. This is the aim of a school, a mentor or a professional who wishes to transfer their knowledge to others."
Thank you Natalie and Chiara for sharing your insights about your experience. And a special thanks to Diego Dolcini for his mentoring and continuous support on the collaboration between our young creatives.