What goes unsaid is that women might be more ambitious and focused because we've never had a choice. We've had to fight to vote, to work outside the home, to work in environments free of sexual harassment, to attend the universities of our choice, and we've also had to prove ourselves over and over to receive any modicum of consideration."
Last year, LVMH promised to reach fifty-fifty gender equality in top management positions by 2020 in the interest of closing the outdated yet still very much present gender imbalance in companies all over the world and more specifically in fashion, an industry focused on women but still predominantly managed by men.
One of the reasons for the imbalance is lack of female mentorship and confidence. To change the narrative, LVMH created EllesVMH, a global community of brilliant women and initiatives supporting the development of women in all positions and levels of their organization. In 2017, they brought to life the remarkable Women@Dior program, an international community committed to coaching women in business, engineering, medicine and fashion.
From developing self-confidence to encouraging young women to dare for the career of their dreams, Women@Dior is an exclusive and inclusive worldwide sisterhood, pairing students with Dior mentors to help them succeed.
This year, Polimoda students Annagiulia Giannetti and Susanna Wu were selected to be part of the 2020 Women@Dior mentorship program. Their talent, ambition and generosity got them into the sisterhood and we caught up with the third-year Fashion Design students to find out more.
What's your name, where are you from and what are you studying at Polimoda?
SW: Hi! My name is Susanna and I'm from Turin, a city in northern Italy. I'm currently studying Fashion Design and I'm in my third year.
AG: My name is Annagiulia, I was born in Trieste but I spent most of my life between Milan and Pianello Val Tidone, a small town in Emilia Romagna, before moving to Florence to study Fashion Design at Polimoda.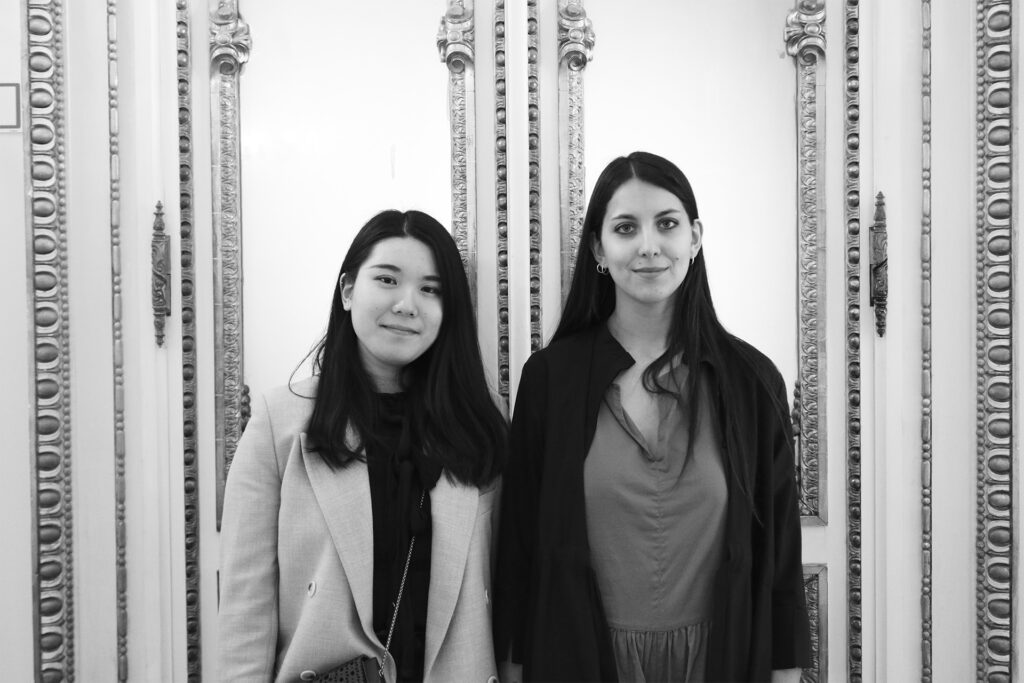 Susanna Wu and Annagiulia Giannetti at Villa Favard
When and how did you find out Women@Dior picked you to be part of this inclusive and exclusive worldwide mentoring program?
SW: I found out just a few days ago, following a meeting with the [Dior] mentors. It was a very pleasant surprise, and I re-read the email multiple times to make sure that I had been selected. I'd never had an interview before, so I wasn't sure of how it usually works, but for this one, I had a very pleasant and entertaining morning. All of the mentors' questions were very particular and interesting, and in general, it was a nice experience!
AG: I was at school and it was a couple of weeks before the midterms. The atmosphere is always a little bit stressful during that period, but after receiving the email, I felt like I was in the right place at the right moment. Nobody knew about the project so I was super excited.
I think it is so important to remind every woman that they are not alone. And together, we can be stronger and respect each other.."
Why did you want to be part of the Women@Dior mentoring program?
SW: First of all, I think it is a great opportunity to learn more and meet new people. It's interesting how this project involves so many young women from all over the world. I am very enthusiastic about the topics we are going to discuss; sustainability, women's rights, gender equality and the importance of each country's culture. I am also very excited about the collaboration with UNESCO. As a girl raised in Italy, I had access to a very transparent and clear education, but I know that, still now in 2020, many countries do not have the opportunity nor the freedom to talk about many of these topics so meeting new people from different places around the globe will definitely be interesting and educational.
AG: Why not? This is exactly what I've been asking myself every day. In the past, I couldn't really see myself as a Dior woman. Little did I know about the beautiful philosophy behind this company. Now, I am very curious about this project and I want to see what can I learn from the team.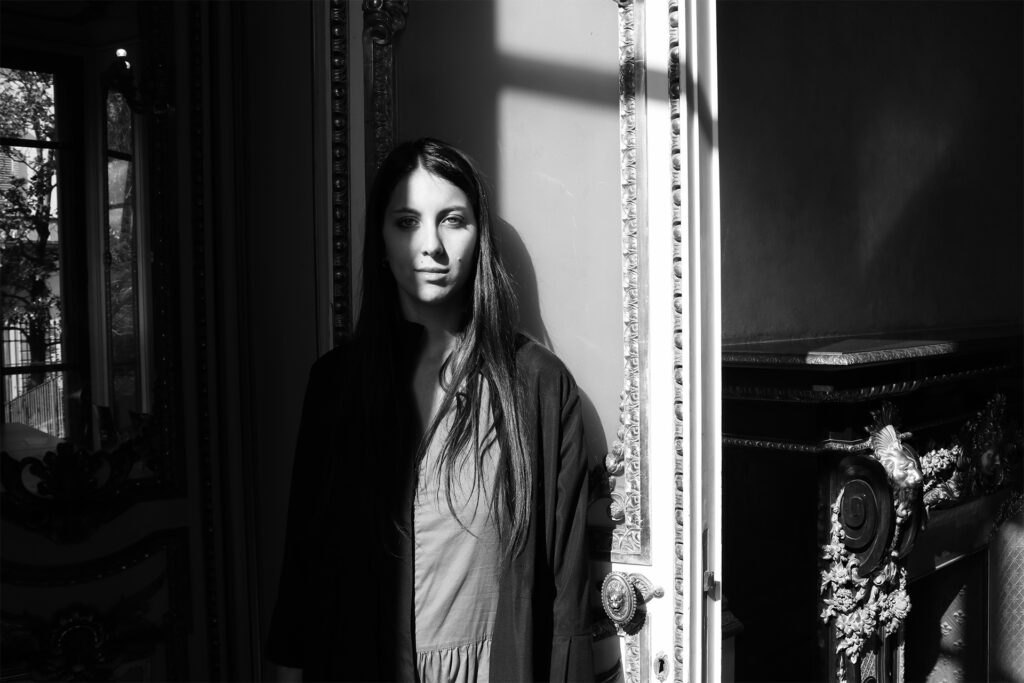 Annagiulia Giannetti at Villa Favard
How do you hope Women@Dior will help you in your career?
SW: It is a project that lasts an entire academic year, so I believe I am going to learn and see many things from the Maison. It is a great formative experience since we will not only meet students but also young talents from the workforce such as our mentors and supervisors. It also involves people from different fields, not only in fashion, so it is a great opportunity for networking.
AG: I hope that with this project, I will absorb and learn through the experiences I will have with my mentor. Sharing my time with someone from the industry will help me stay motivated and remind me to never forget the reason why I'm doing this. 
I hope that through this program, we can build a connection among women from all over the world and support one another. "
Why do you think a mentorship program dedicated to women is important in 2020?
SW: It is very important. We live in a world that still contradicts itself. Still today, salary wages differ according to gender, and in Italy, women have lower salaries compared to men in some fields of work. I hope that through this program, we can build a connection among women from all over the world and support one another.
AG: I think it is so important to remind every woman that they are not alone. And together, we can be stronger and respect each other. I think in 2020, we have more freedom than ever. However, we still take it for granted sometimes and lose ourselves. It's important to have someone to look up to, a guide, especially before starting your career.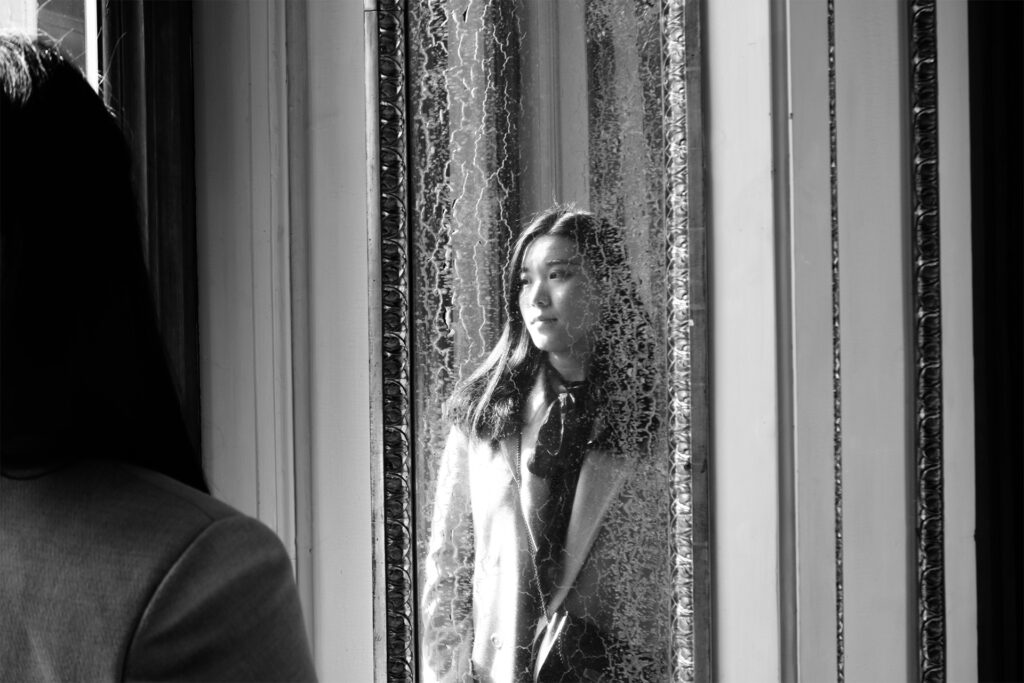 Susanna Wu at Villa Favard
SW: Inspiration for me comes from various sources. I mostly get inspired by literature or architecture, but I also follow the news and if there are topics that click with me, then my inspiration could start from that. As for inspiration in my life, it is definitely my Mum; she has always been a role model to me as well as a very hard-working, passionate and kind person. She is someone I look up to and it would be nice if I could become like her.
AG: Everything around me. People, nature, architecture, art and the world. 
SW: My dream job would be to have my own wedding dress atelier. It has been my ultimate goal since high school. I love interacting and connecting with different people. I genuinely enjoy seeing people smile from happiness, and if I could make someone smile because of my designs, then that would already be very fulfilling.
AG: I want to work in the fashion industry, but without excluding the world of art (painting and sculpture). I would like to be a fashion designer, but I'd like to try and cover different roles so I can learn as many things as possible. And I want to maintain my love for craftsmanship, always.
Congratulations, Annagiulia and Susanna!