The historic complex of Villa Favard is the headquarters of Polimoda, and as well as being the administrative head office of the institute it also houses the main student services, such as the Information and Orientation Office, the Academic Office, the Career Office, the Management Office and the Library.
Sixteen classrooms for the in-person and Business area lessons, 2 workshops and an amphitheatrical auditorium have been created from the former stables of the villa for a total of 2400 square meters of space over three floors, with capacity for around 700 students.
The basement floor is entirely dedicated to the Polimoda Library.
All spaces are equipped with cutting-edge technological equipment.
The Villa Favard complex represents a bridge between the past, present and future and is without doubt the ideal location for holding Polimoda's courses, both for its historic prestige and beauty, but also for the intrinsic significance that these spaces have for Florence.
To make the spaces of the Villa and its Stables suitable for hosting Polimoda's students and courses, a 3-year regeneration and renovation project was carried out.
A number of major improvements were made in terms of the optimisation and equipment of the teaching spaces, always with complete respect for the original structure and existing historical features.
History and modernity have been combined in a sophisticated environment that is able to stimulate the creativity and individual expressiveness of students.
In January 2012 the Villa Favard site officially replaced the historic Villa Strozzi as the headquarters of Polimoda.
"When she moved to Florence, Baroness Favard de L'Anglade decided to build her residence on the new embankment of the Arno, honoring me with its design and construction in 1857."
This is how Giuseppe Poggi, the engineer and architect who designed much of the Florence we still know today, described the genesis of the building that Fiorella Favard – French noblewoman and patron – wanted as her city home, and which today has been given new life as the headquarters of Polimoda.
Facing the River Arno and the hill of Bellosguardo, this magnificent villa, rich in history and frescoed rooms, represents the zenith of the Florentine neo-renaissance style and remains one of Florence's most significant mid-19th century buildings.
It was a meeting place for intellectual artists of the time and then historic site of the University of Florence before being purchased in 2007 by Ente Cassa di Risparmio di Firenze, which embraced Polimoda's project to transform it into a new culture center dedicated to fashion, funding its expert restoration which concluded in 2011.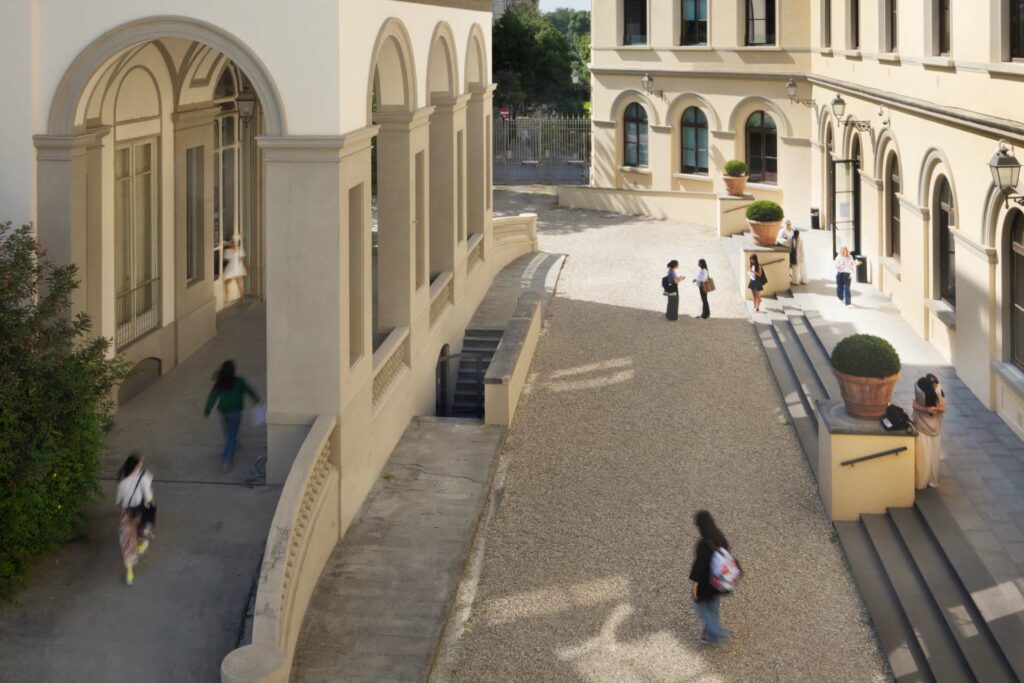 Villa Favard 
Via Curtatone 1, Florence, Italy
Open: Monday – Friday: 8.30 am – 8.00 pm CET
Phone: +39 055 275061