Opened in January 2020, the Polimoda Manifattura Tabacchi site hosts the workshops of the Fashion Design and Fashion Art Direction areas.
Equipped with next-generation professional instruments, this site enables students to work in an environment that faithfully reproduces the reality of the industry: 12 workshops (10 tailoring and 2 knitwear) and an entire open space dedicated to tailoring and the study of the collections of last year's students, equipped with flatbed cutting and sewing machines, specific tailoring machines, as well as ironing boards in every workshop, looms for knitting, linking machines and tailor's dummies of different sizes and types.
On the first floor of the building there are also two photography studios and the computer labs, equipped with over 200 computers, graphics tablets, instruments and software used in the fashion industry.
6700 square meters, four levels, a basement floor and a spectacular panoramic terrace overlooking Florence: this is Polimoda's most innovative site, with a capacity of around 800 students.
The architectural regeneration project carried out at this historic cigar and cigarette factory prioritized the highly contemporary restoration of the spaces and the configuration of functional areas dedicated to teaching and practical activities.
The original architecture of the building has been enhanced, preserving its industrial charm and unique character.
In this way, what was the General Services building of the factory in the 1940s is now a place where hundreds of bright young minds study, create and grow, taking their first steps towards a career in the fashion industry.
A classic example of post-WWI Italian rationalist architecture, the perfect combination of modernity and dynamism, the imposing trapezium-shaped complex of Manifattura Tabacchi was built by noted architect Pier Luigi Nervi.
A monumental structure consisting of sixteen buildings located over an area of around 100,000 square meters with squares, roads and pathways, it was opened in 1940 to meet the growing commercial demand for smoking products.
An industrial site that played an extremely important role for the economy, the urban landscape and the socioeconomic life of the city of Florence in this period.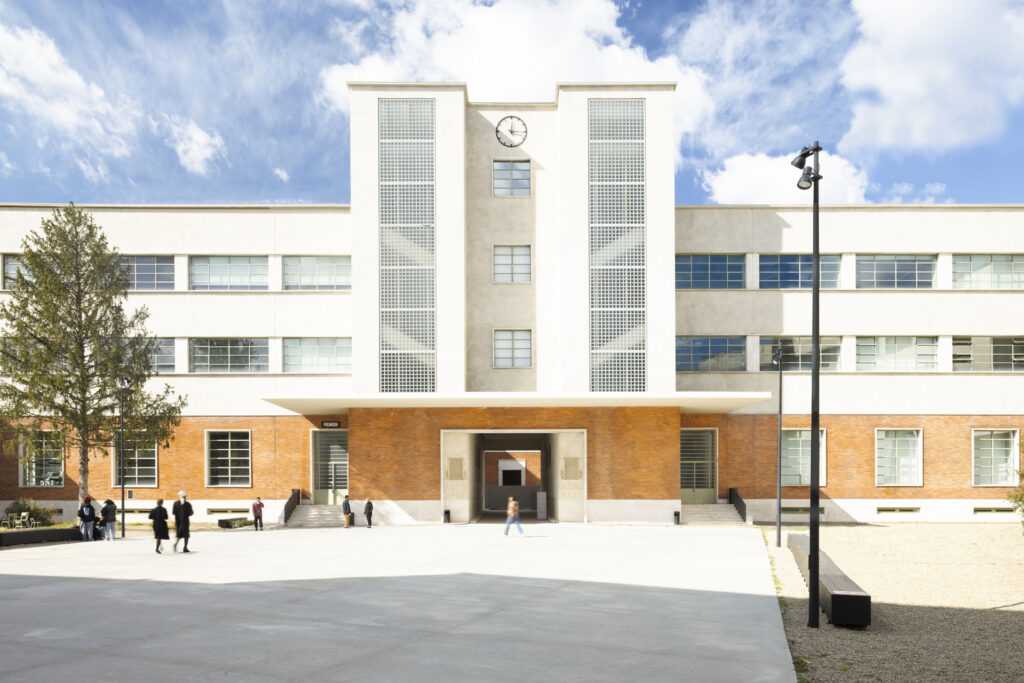 Launched in 2016 by a joint venture, the project to regenerate the entire former industrial area of Manifattura Tabacchi aims to give Florence a new district, accessible to all and connected with the world.
Polimoda students and the people of Florence will be able to access numerous services and common areas such as co-working and co-living spaces, concept stores, ateliers, workshops, exhibition spaces and green areas. A project centered first and foremost on people, and therefore students and their needs, with the aim of identifying solutions that enable them to express their creativity, share experiences and connect with the local area.
A place where creativity, fashion, art and contemporary craftsmanship come together to form a one-of-a-kind location, attractive for the international community of professionals and creatives interested in living and working in Florence.
Manifattura Tabacchi 
Via delle Cascine 35, Florence, Italy
Open:
Monday – Friday: 8.30 am – 8.30 pm CET

Saturday: 8.30 am – 7.00 pm CET
Phone: +39 055 2750899